I am new to Airmar, NMEA and WD in general, and are seeking some help from the community. First I would like to thank Brian for making this software. There is so many features and so many ways that leads to the same thing that I find it easy to get lost in all the features.
I have a Airmar 150WXRS one of their new models with haptic rain sensor and are facing some challenges. I have managed to get the WD to receive data from the WS but are facing the following problems:
Picture: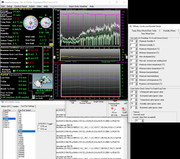 Spikes
I have tried to adjust limits to adjust for spikes but I still get bad data.
Rain.
I have not go this to work yet. I have tried several times to put in a number from last day to get it going. This is how I have understood other people have got it going.
Does the software output reset rain in NMEA? eg:
$PAMTC,RESET,RAIN,RAIN*hh
$PAMTC,RESET,RAIN,RATE*hh
https://www.airmar.com/Catalog/WeatherStation-Instruments/150WXRS
Here is an example of the NMEA output in WD: