Hi there
I'm "playing" a little bit with Weather Display in the last days - also - I "try" my first steps to make a homepage. Oh well - I do not even know much about html and homepages and so on - therefore - since today - somehow my homepage works - ok ok - I know I only use the "standard" options and everything and I let Weather-Display built my homepage - but for the first steps - I think it is ok.

So - but now to my question… I hope someone can help me:
Since yesterday - I do not know what I have changed or made and why it is like that now - the Summary.gif is way too big. What have I to do to make it "normal" again? Which settings have I have to change?
Look here to see what I mean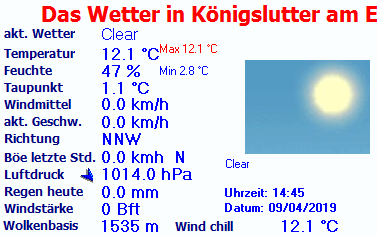 Thanks in advance if there is somebody with a answer.

Of course - there are lots of other things I really haven't understand yet - especially some options in the control planel and some settings - what do they make - or why do they not work - what has changed when I activate this and that - and so on. But ok - I will ask that someday - when I really do not know why some things happens…
Therefore - I wish you all the best, a nice day and weekend - and please - excuse my english - I know my english is not the best and I make lots of mistakes - sorry!
With best wishes from Germany…
PS: Before I forget it - maybe somebody has also seen this - each time when I go in the control planel to have a look for the clientviewer (for Weather-Display Live - look or change the settings) and hit "ok" to close the control planel again - another clientviwerftp uploader was opened… mysterious I have to say - because I only need one to upload the clientraw.txt to my server - right?

And by the way - hmm I do not know why - but somehow the clientviwerftp uploader do not start "automatically" for me when I start Weather-Display - I have to go one time to the settings - and then it works - also mysterious I have to say - but maybe I have made something wrong - somehow - also possible…