Do you have USB extenders to it?
Thanks All…Quite in favour of the security light housing…But to do without USB Extenders and use 5m cable,end to end,as the saying goes…Hope the practicalities of connecting to a USB Hub is not going to cause any probs…Rob
What camera are you going for? If its the Logitech Pro 9000 then you will need active
USB cables to extend it as it requires more USB power then normal webcams!!!
Appears most of you folks favour the 9000.One problem is that a 5 metre usb is,nt going to reach after reaching for tape today.Hope to site it on a 10ft mast to get good view S/WEST over the Bristol Channel then route via the roof into a spare 1st floor bedroom and now looking at something around 8-9 metres to be safe.Picked a Cat5 usb booster via Ebay earlier and 10 m rj45 - rj45 cable and make up a housing but still undecided what cam to splash out on…Thanks Rob
See this thread referring to USB cables and the 9000 Pro
Niko, can you please confirm that is the case without having to buy any additional s/w.
…and perhaps a few details.
An update on the Active Webcam s/w I've been using for a short time.
I'm finding it quite unreliable. Sometimes it works, most times it doesn't.
Although I know the camera is working fine as shown with its own host s/w.
Active Webcam sometimes reports it can see the camera but just doesn't capture any video.
I'll persevere for a little while longer but I don't have confidence in finding a solution.

When you say active cables is it the 5m repeater type or something like an extender/booster set -up.The intention is to run it via a 4 port USB hub…#-o.Rob
Thanks Bashy…Just remains to look out for a bargain 9000 :D.Rob
How much do you class as a bargain? Amazon have them
http://www.amazon.co.uk/gp/product/B000T5GMJE/ref=s9_k2a_c5_i1?pf_rd_m=A3P5ROKL5A1OLE&pf_rd_s=center-1&pf_rd_r=1D6CHA9TCF1NWS6ATS5K&pf_rd_t=101&pf_rd_p=463374953&pf_rd_i=468294
If you buy from amazon use that link as it will support this forum

You can see my streaming cam in this post http://discourse.weather-watch.com.new.html#new
Ok…Thanks for the lead…Will have a peep!..I take it that the whole camera and lead will fit inside housing without having to butcher the cam body minus of course the stand ! !..Thanks Rob
I am using the 500w housing and it all fits inside including the stand, I took everything out of
the housing and drilled a big enough hole for the USB plug to fit through then used dum dum putty
to seal the whole
I mentioned about covering the chrome around the lens, evidently i never bothered, i thought about
it though lol, perhaps it didnt need it, see my image below please…
---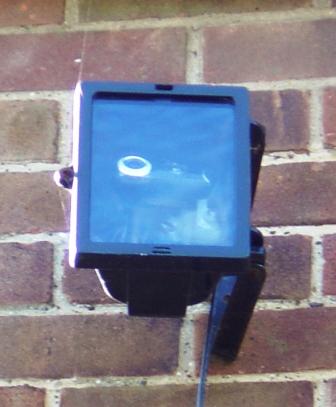 Not niko, but…
You can grab a jpeg image from the BL-C140 (and at least some other Panasonic cameras) using a http call, e.g.
http://domain-or-IP-goes-here/SnapshotJPEG?Resolution=640x480&Quality=Clarity
I use a URL like that in the HTTP Download window in WD.
You can also (as niko mentioned) have the camera itself upload jpeg images by ftp. That can be set up through the camera's browser based interface.
Thanks skyewright, that's the way I get the image too.
See this FAQ (some screens may have changed a little), once you have grabbed the image WD's webcam functions will add whatever legend you want and upload it.
If you just want to upload the plain image, or timestamped image, then use the FTP and scheduling that's built into the camera.
Thank you.
The two pages of that FAQ are really helpful.
I've just spent ten minutes following them and have now achieved what I wanted to do in the first place without the need for any third party software.
I am more and more impressed each day with the Weather Display software.
There is obviously so much more that I have to learn and I'm sure much of it is covered in these Forums somewhere but it is really helpful to have folk such as yourself willing to point one in the right direction rather than as found in some forums just an instruction to search though.
Thanks once again - I'm really happy.
:lol:
We aim to please