Hi,
I'm new to weather stations and PWS and ask that you forgive my ignorance.
I have purchased an Ecowitt HP2551CA, this exact one: (https://weathershop.co.za/product/ecowitt-weather/wireless-weather-station-lightning-detection-wifi-logger-hp2551/) This unit does not work with WS View.
I have downloaded PWS and installed the same on a local network instance of WAMP, my intentions are to make the weather data available to a small group of users and read the data from a local instance of OpenHAB for use with home automation, (the OpenHAB binding for the station does not work with "no-WS View" models).
I have successfully completed all the required setup including that on the weather station via its IP address: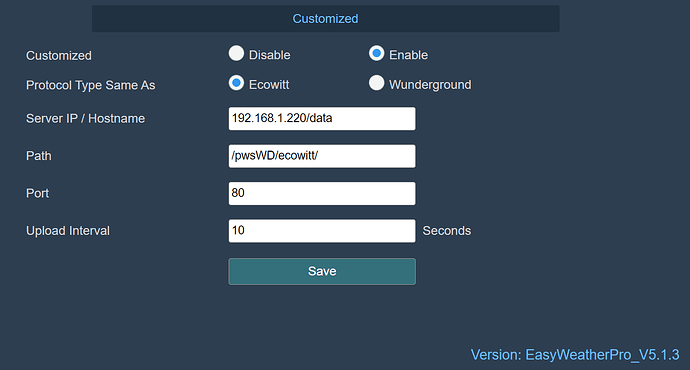 data = the local host that has been defined and tested as working
The problem I am experiencing is that the weather station does not appear to connect to the PWS instance at all and I am not sure of the following:
-setup issues
-model campatibility issues
-WAMP setup issues
Any assistance would be greatly appreciated.