Last night at 11:15 before hitting the rack, I accidentally closed WD (10.26e).
---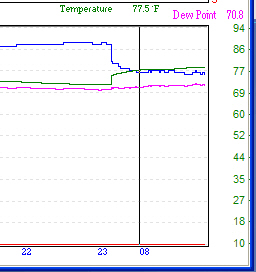 some things to check:
that the date and time on the console are correct
yes, you can force it to try again
by exiting wd
then in the wdisplay.ini file
look for [Davis download]
and then set the hour and dates to start getting the data from
but before you do that, clear out any logged data since in the logfile, 62005lg.txt, then convert that log file to graphs via action…
try all that
(as long as the console time and date are correct (which you can set in wd in the data logger setup)
Brian - the date and time are within 1 minute of the PC time - so I assume this is OK. I will try your directions and let you know.
Thank you
Craig
Brian - worked like a champ - had to retry the graph to make it correct, but it worked.
Thanks for the help
Craig (Where it is 81F - 12 degrees F cooler than it is in the city 12 miles away - Love that Lake Breeze!!)